Membrane Specialists is please to present a paper at the 2017 Annual American Filtration and Separation (AFS) society Conference. The topic will discuss the roles and driving forces behind the pilot treatment process.
How to Meet the Differing Objectives of the End User and System Designer.
To download the white paper, please visit the downloads page or email us.
Abstract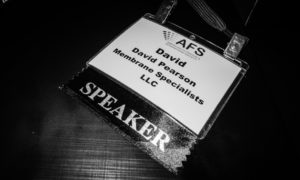 The end user and potential membrane system designer and supplier often have both conflicting and mutual objectives when undertaking a pilot test of a membrane system. The end user will want to ensure that a suitable product can be reliably and consistently manufactured and may want to produce product for quality control and market testing. The system supplier will want to ensure that data on the key parameters involved in designing a membrane system have been adequately captured to enable a design to be completed. Both parties will want to be confident that if a membrane filtration process is installed at a commercial level, there will be no significant and unwanted surprises, with the membrane system meeting both capacity and separation objectives.
Thus establishing, prior to testing starting, an agreement as to what each party's technical and commercial expectations are and how these are to be addressed and explored during piloting is critical to the success of the testing program.
Using experiences gained with multiple pilot testing programs, the various key issues will be presented. Topics will include how to select the right membrane configuration, what process variables need to be explored, what scale of testing might be needed and how risks are identified during piloting so that these can be minimized prior to a project moving forward.